Temple at Karnak
The enormous temple complex at Karnak is the largest temple still standing in Luxor -- or in Egypt. THe sprawling site contains many temples and sanctuaries, built over the course of centuries. Karnak covers over a hundred acres. The temple was known to ancient Egyptians as Iput-Iset, "Most Esteemed of Places"
Inside the walls are many ruins, including the Great Temple of Amun (the bulk of the temple structures here), a temple to Khonsu, Opet temple, Temple of Ptah, Temple of Montu, TEmple of Maat, Temple of Tuthmosis I, Temple of Amun Kamutef, Temple of Mut and a temple of Ramesses II....among others.
At first, it's impossible to see the organization of the temple grounds -- it is a jumble of stone and buildings and ruins. It takes a half-day to walk though the temple precints -- more if you are interested at all in the reliefs or details of the buildings. Fewer people visit in the afternoon, but it can be hot.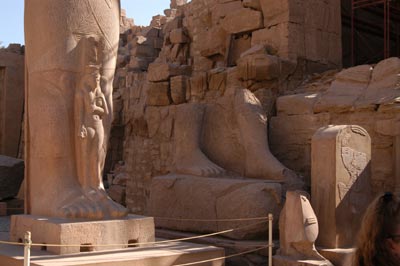 The Great Temple of Amun is the largest structure still standing, with the courtyards, pylons, and hypostyle halls still partially intact. Look on the following pages for details and photosof the different parts of the temple:
Great Temple of Amun
Hypostyle Hall
Tuthmosis III Temple
Khonsu Temple
Opet Temple
Temple of Ptah