this site
corniche
mummification museum
luxor museum
colossi of memnon
temple ruins
photos
The Corniche el Nile, Luxor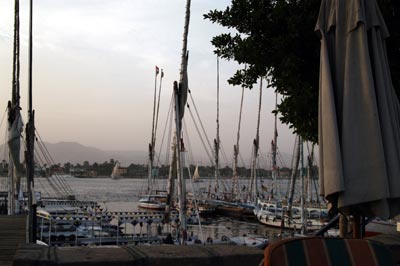 Luxor is a lovely, quiet city -- at least in the area we were in. OUr hotel, the Old Winter Palace, lies on the corniche, the streetside along the Nile, and it lends itself to long, quiet walks along the water and down by the wharfs.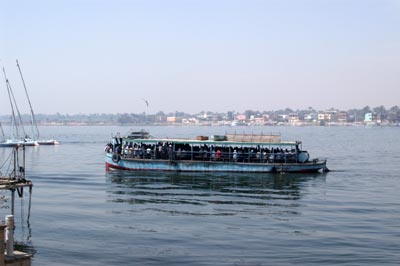 Literally hundreds of felucca (feluccas?) are moored here, since the huge tourist ships are pushed farther down the shore. It's surprisingly quiet along the waterfront, with little cafes and shops in two tiers.
We walked along the corniche nearly every night. You have to work a bit to avoid the touts for the feluccas, but they are all very polite, albeit insistent. It's quiet, cool, and fun watch the caleches (horse-drawn carriages) on the road. The horses here are in pretty good condition. IF you choose to rid a caleche, definitely choose one with a healthy-looking horse -- don't patronize anyone with a sick or injured animal (this is a suggestoin from Rough Guides, in an attempt to improve the care of local horses).
Mark was amazed at the fire-fighting equipment on the corniche -- pulled by hand and run by small generators. As far s we could tell, this was it. I'm sure there was a proper firetruck somewhere in the city, but we didn't find it.