Giza Plateau
Everyone who visits Egypt visits the Pyramids, which lie on the Giza plateau nestled into the edges of Cairo. I thought that the pyramids were out in the desert, but found that they are actually so close to Cairo that I can't figure out how they got all those fabulous shots I see in calendars and postcards.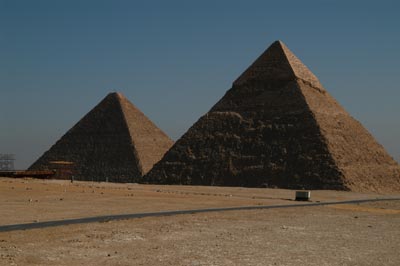 Worst of all, the plaze directly across form the plateau has sprouted a Kentucky Fried Chicken restaurant and so many tourist shops that it's jarrting.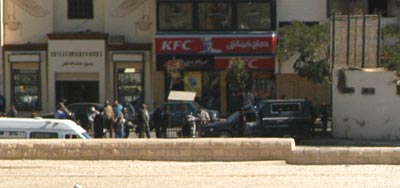 Most people visiting the site want to go into at least one of the pyramids, and if you do, plan to be there early. Tickets are sold separately for the site and for entering thepyramids, so make sure you get both.
The major sites on the plateau are, obviously the three huge pyramids -- The Great Pyramid (Pyramid of Cheops), the PYramid of Chephren, and the smallest of the three, the Pyramid of Menkaure. There is also the very interesting SOlar Boat Museum -- a reconstructed funerary barque that was found near the pyramid.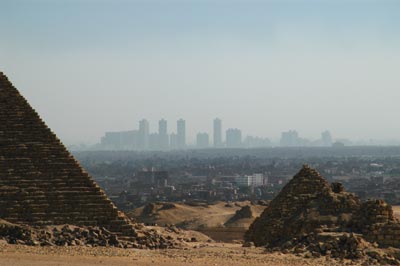 Queens pyramids dot the plateau, as well as mastaba tombs, and, of course, the Great Sphinx, with the attached funerary temple of Chephren nearby.
We spent half a day here, wandering around.