David Roberts
Perhaps one fo the first things that drew me to Egypt was a book of the fabulous paintings/lithographs of the Scottish artist David Roberts (1796-1864).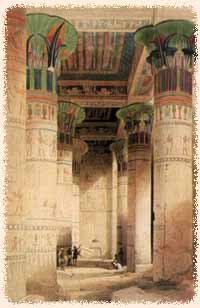 He was the first British artist to sketch the monument, and did so during a two and a half month journey along the Nile. He travelled over 800 miles to sketch the temples and monuments of Nubia. He returned in 1839 to travel to Mount Sinai and Lebanon.
He did over a hundred sketches which were later turned into delicately colored lithographs by Louis Hague. It is these colored lithographs that are so common on postcards and on prints all over Egypt. Most of the images show the temples in color (some reality and some artistic license, I suppose) and nearly all of them are sketched in the state they were during his trip: that is, covered in sand.
It is remarkable to compare Roberts' sketches to the way the monuments look now -- and imagine what we have lost to time and neglect.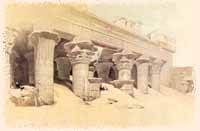 There are a number of books of his works available, including a lovely boxed set of Egypt and the Holy Land with all of the lithographs. Note that I"ve included two images here -- I believe that they are in the public domain but if you have other information, please let me know.