t u e s d a y m a y 1 8 1 9 9 9
We're up at a normal hour, for a change -- maybe we finally have this jet lag thing licked. Tish told us at breakfast that we have a tremendous capacity to sleep. We packed up after taking another shower in the tub, and headed off into the great unknown.
So back through Haddington (again) to see Tantallon. We made a huge extra loop around Dalkeith again, but otherwise ok.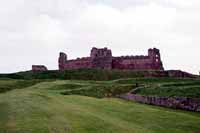 Even though we had seen this castle briefly last night, I was absolutely awestruck by Tantallon. It's amazing. The walls are 50' high and in the back it plummets another 100 or so into the sea. Like most of the ruins, it's crumbling. Most of the west tower is gone, leaving only a grass filled circle, and you can see the mostly buried remains of the outer wall in the gently rolling banks around the castle. It's unbelievably massive -- you can see parts of the bases of the walls that are 12' thick. Lots of doors have been filled in with a strange, soft, green stone. The stone is local, the guidebook says, and was used to fill in openings and weak points in the wall to make the castle less susceptible to mortar attacks. It didn't work very well. The interior is mostly gone (the castle was abandoned in the 1600s) and Cromwell's attacks breached the stone walls. We spent a couple of hours climbing all the stairs, walking whatever parapets were open. Quite a bit of the castle is barred off, but we clambered out over the main curtain wall.
Mark, of course, is fascinated by the military aspects of the castle. How easy was it to defend or attack? Me, I can imagine the people here in this contained town. The bakehouse warm and filled with people, the brewhouse barreling ale and beer, the wooden floors in place and the windows covered in shutters and thick tapestries. These are not cold, stone piles, but comfortable homes.
It's quiet here except for the howl of the wind on the cliff top, and very stark. The tide is out and we can see the black rocks on the beach far below. Last night, when the tide was in, the waves crashed against the cliffs. Today, they are far out to sea, barely foaming at the entrance to the cove, lapping at the big rocks. I hadn't realized the great change in the sea tides.
From Tantallon we barreled off on the coastal highway to North Berwick, where there was supposed to be a Tourist Information center. We didn't see that, but stopped almost immediately at a Safeway (which must have been designed by an American -- it was the only place we've seen with a huge parking lot and trees) in search of Diet Coke. Since it was nearly lunch, I said we should just grab stuff for sandwiches, and of course Safeway would have a deli. Mark said "Assume nothing."
This was our first exposure to a Scots grocery store. They sell the strangest stuff in the deli department: pork roast, and weird two-tone bologna in the shape of a teddy bear. Deli meat is sold by the quarter pound, and the deli department is tiny. We bought turkey, wheat rolls (labelled "Multi-grain whole wheat white rolls", how they got that I don't know), mayo, and a case of Diet Coke. I feel better with a few cans of diet pop around. Since we're practically living in the car, we wanted something a bit better for us than little packets of Butter Shortbread cookies; cookies, while tasty, are definitely not good for us. We've eaten two or three packs of since breakfast.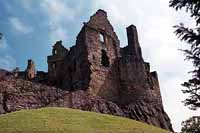 We ate lunch in the car, spreading mayo with our fingers, and bobbed off down the road to Dirleton Castle. We're doing much better with driving. It's my job to tell us where to go, and Mark's job not to get us killed. That pretty much covers the rules. We're swerving with the best of them now. It's the first time I've actually seen Mark drive with both hands on the wheel, 10 o'clock and 2 o'clock. I still grab the door handle when we're passing trucks...from my side, it looks like we're going to hit them every time. We still have to do a double-check every time we pull out into traffic--are we on the left? Good!
Dirleton, while quite small, is much better preserved than Tantallon. The castle is very striking, with yellowish stone outer towers, and the remains of an older castle and recent (18th century) barracks within the walls. It sits on a rocky mound dead smack in the middle of town, surrounded by a low stone wall. There is a magnificent sculpted garden with carefully planted rings of greenery (a "classic waste of space", Mark says) within the grounds. I don't think that you could have had a picnic there -- no place large enough for even a small blanket amongst the beds and knot work greenery. Nothing is really growing yet, except the grass, but it looks like it will be a beautiful formal garden in a few weeks.
Then, there's this enormous expanse of perfect putting-green lawn, probably 20 meters square. It took us two hours to figure out what it was -- a bowling green of all things, and then only after we saw one actually being used on the way back to North Berwick. Lawn bowling looks a lot like bocce.
The front of Dirleton is impressive. It actually had a drawbridge and a deep ditch. Not a moat, unfortunately. It has huge round towers, but they are mostly destroyed. Downstairs is the kitchen, bakery, and storage in a huge vaulted room. It was surprisingly light and airy. We assume that the window openings, since they open into the courtyard, are much as they once were. The outer wall was pretty much rubble, and you could walk to the very edge. In the States, they'd have lights, bars, fences, and sirens. Not here. The Scots assume that you have basic common sense and aren't going to fling yourself off the walls all willy-nilly.
About the time we were leaving Dirleton we decided to head back to the Tourist Info center in North Berwick to find a room for the night. It took two times around to find the info center, but once we did it was easy to park right up the road. We stopped on the coast to investigate some interesting tidebreaks and snails. This place is so beautiful.
The gentleman at the TIC was very helpful, and while we picked books and postcards from the displays he made a booking for us at Venlaw Castle Hotel in Peebles. He handled the whole thing for us, charged us the deposit, and off we went.
While we waited for the booking, we went back into town and wandered up and down the main street. I saw the most incredibly cute...well, I don't know what it was, really. A wooden sculpture of a guy dressed as a bee with a mechanical set of wings. He was such a forlorn little character in a red muffler and striped turtleneck, on a long spring. A toy. I really wanted it, but let myself be bullied into not buying it by Mark. The old "where are you gonna put it?" argument. Back at the tourist office, we packed up our purchases and decided to find Craigmillar Castle , near Edinburgh, before going to Peebles for the night. That was our first mistake. Using the map was the second.
We shot down the A7 -- a huge double carriageway (divided highway) to Edinburgh. The intersections aren't listed miles ahead like at home -- sometimes there's only one sign ten feet from the exit. Then, to complicate matters, it ends in a bloody roundabout or two or three. Roundabouts are usually labelled, but not always. We were supposed to follow the roundabout to Craigmillar. Fine. The first "O" on the map was labelled. The second wasn't. One road led to the parking lot of this huge mall. Another a dead end, another a tiny unlabelled road. Back to the roundabout. This time, we end up at McDonalds... in the parking lot of the mall.
The map clearly shows us going along the southern end of the mall. One more try, we're at the entrance of the mall again. Looking at the map, we got back on the expressway to go one exit further and try looping back. It goes to the mall, too. Back around. We take the farthest road, drive through a small subdivision, and end up heading to Edinburgh on a double carriageway. Uh-oh. This is looking familiar.
Oh no! It's the MALL OF DOOM! We're back at the #%@! mall. No matter where we try to go, we end up back here! AAAAAARGH!! Finally, in desperation, we take the tiny unnamed road. It has to be right, it's the only road we haven't driven on yet. After one intersection, it shrivels down to one lane. The second intersection was marked 'Not accessible to motor traffic', then it dead-ended in a gravel pit. We turned around, went back to the first intersection, crossed our fingers, and suddenly we were fine.
It would help, of course, if there were any labels on the streets. I'm used to every street corner sporting a big green and white street sign. Here, if you're lucky, a small plaque on the wall every couple of blocks or so is all you'll see. On the maps, they all have names -- Millhigh Street, Dalkeith Road. Yeah, prove it! Some roads even change names every few blocks, just to keep you on your toes.
Luckily, Craigmillar was well labelled. A pretty cool castle, very well preserved. A group of high school kids were sunning themselves outside. A few of the younger kids were running around. It took a few minutes to realize they were speaking Gaelic.
Much of the main hall is still standing, with the stone vaults and ribs. Someone with a beautiful voice was singing in the Great Hall -- the acoustics were amazing. We met the two music students from Edinburgh later. One of them was from Dublin, the other from Arkansas. They told us how to navigate through Edinburgh.
Inside the main door of the castle are two huge trees which lend a piazza-like feel to the courtyard. In some places, the ornamented stonework was very detailed. The castle itself is fairly small, but contains many rooms -- even bathrooms -- intact. Bathrooms, called garderobes, simply emptied down the walls, or into the walls themselves. Gross! We stayed too long, and were rushing to get to Peebles by our appointed time. Amazingly, we didn't get lost, and found the Hotel on the first try.

Venlaw Castle isn't really a castle. It's a Victorian manor house designed to look like a castle, built on the ruined site of another castle, Smithfield. It was just refurbished in March 1999, and they seemed very happy to have guests.
They did a lovely job. The room was enormous, with a couch and chairs and comfortable furniture. The bathroom was huge (en suite -- which means 'in the room'. You can also find 'private', which is yours alone but not in the room, 'shared' where two or more rooms share the facility, or, weirdest of all, a private sink and shower, but NO TOILET. That's down the hall.)
Mark made hot chocolate (he is just amazed at the tea things in the room) and we lumped a bit before dressing for dinner. It seemed like a kind of formal place, and it was nice to get out of jeans and into something nice.
They seated us in the bar and we had a drink while perusing the menu, then into dinner. It was very, very good. I had smoked salmon salad to start, and Guinea Hen in puff pastry; Mark had lamb. Everything was exceptional, topped off with coffee and 'tablet' (fudge) in the lounge after dinner. A couple of older ladies were in for dinner. I don't think that they were staying at the hotel, but seemed like regulars. Chatted up a storm -- telling the same stories they always did, I think, but they were quite nice, and had obviously dressed up for their night out. Another couple was pretty aloof, and didn't talk much -- either to us or to each other. I always wondered at married couples who go out to dinner and then don't really talk to each other. I'm sure you've seen them...they eat, nod politely to each other, but don't say a word. They might not even smile. Why bother?
We toddled off to bed, which was the only negative thing I could say about Venlaw. The bed was horrible. Like a cheap fold out bed. We both had stiff necks and backs. But, the room had a real shower, and the staff was amazing. I'd definitely recommend it, despite the bed.
©1999-2001 R. Fingerson