w e d n e s d a y m a y 1 9 1 9 9 9
Breakfast was as good as dinner, although I'm not eating dried apricots again, I can tell you. Ick! Eggs and sausage and toast, and a cold buffet. The owner took our orders and delivered stuff -- this is obviously a family run establishment. We're drinking coffee and juice when he comes in announces tragically "D'ye know what happened? I had a cup of hot coffee -- too hot to drink -- and I set it on the desk to cool, aye? Then, I confidently took a huge mouthful ... of warm PRUNE JUICE" We were warned not to trust anything that Sharon delivered to the table! When we asked her about it, she just grinned, "Ooh! It was lovely! You should hae seen the look on his face!" Too funny. We thanked everyone, packed up, and were headed off to Neidpath Castle by 8:30.
We got sidetracked a bit by a ruined churchyard with a crumbling tower and a bunch of leaning or fallen stones. A note on the gate said that the city council was moving or toppling the gravestones and monuments that were dangerous. That might explain the kind of ramshackle look of so many cemeteries that we've seen. This one had stones from 1740 that we could still read and probably some older that we couldn't make out any longer.
Neidpath Castle was 200 yards beyond it, but it didn't open until 10:30. Oops. We decided to go on to Broughton. Mark spied a ruined something in a sheep pasture and stopped... "A pile of rocks that may have, at one time, been a castle". I made him backtrack so I could take a picture of Happrew Tower.
We took the drive down to Moffat through Tweeddale. The drive is gorgeous, all green rolling hills and trees. We just kept repeating to ourselves, "And this is the ugly part of Scotland!" We couldn't find Linns Castle, which is probably just a motte, but did stop beside a stone monument to postmen who died in the snow in 1831. A big cairn stands there with a plaque.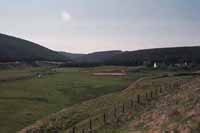 We saw the head of the River Tweed, and a beautiful deep valley called the 'Devil's Beef Tub' (so called because it was a favorite place to hide stolen cattle) before heading into Moffat.
We bought more books at the TIC, which is in the parking lot of the Woollen Mills. The lot was populated by six or seven huge tour busses of gray-haired ladies and their balding husbands. Why on earth would people want to tour Scotland from the back of a bus? A couple followed us into the Tourist office. They had just gotten off one of the busses. "We have one hour. What should we see in Moffat?"
The woman behind the counter was much happier with our request, "We have three weeks. What should we see?". We bought more books (including the much used "Touring Guide to Scotland") and went off in search of lunch. Pub food again, and quite tasty. Mark says he's a wimp for sticking with the 70- or 80- shilling beers instead of the heavier drafts. Unfortunately, I'm not much of a beer drinker, so I just taste his.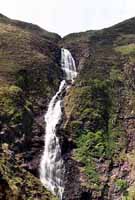 We saw the Grey Mare's Tail on the way out of Moffat after searching in the mill shops for a good, non-scratchy Arran sweater and taking a picture of the earless ram statue in the town square.
The hike up to the Grey Mare's Tail waterfall is pretty steep. The stone path is right on the edge of a steep drop off -- again, no railings or fences, just the admonition to 'Be Careful. Fatal Accidents have Occurred.' We couldn't take a picture to do it justice. The cliff is awfully steep.
At the top, after a 10 minute hike, the falls are a real surprise. A narrow plume of water that cascades into a steep valley. On the way down, Mark notices climbers on the opposite bank and wants to know why we didn't go that way. 'Because it's 45 minutes uphill'. The winding road is often taken over by sheep, and there are signs on the side of the road to be careful: 'CAUTION: YOUNG LAMBS'. They just wander onto the road and stand there. We had to wait at one point for a farmer to herd cattle across the road.
We could see Dryhope Tower from the road, but couldn't figure out how to get there! The little road marked 'Dryhope' turned into a driveway to someone's house. I can only figure that you have to cross their land, and we weren't sure how. We ran back to Peebles on this little road, heading back to Neidpath Castle once again. Hey, we'd been there before, we knew where it was! I'm getting pretty good at shouting out placenames that might be on the road signs.
I was a little apprehensive about Neidpath Castle as we drove into the carpark amid stenciled signs proclaiming 'such and such movie filmed here' and 'the only real castle', 'parking included in ticket price'. Very pushy, and just a bit too commercial and tacky. The castle is privately owned, and I suppose that the owners are struggling a bit, but it was very off-putting. I kept waiting for a sign 'X crisps, the office crisps of Neidpath Castle' along with giant cardboard cutouts of local sports heroes.
The main hall is filled with glass cases of stuff, including a tartan exhibition and examples of items found in the castle during restoration. No sports figures, but there were rather cheesy cardboard cutouts of shields and swords hanging in the main hall. I was just cringing.
Then we went up the stone stairs to the Great Hall, which was plastered and finished and painted. It was suddenly hard to believe that we were in a stone building. It felt like any other dining room or bedroom. There were deep window casings, which were the only clue that the walls were thicker than normal. The fireplace was in one piece, tapestries were hung on the walls that depicted kings and queens, and exhibition cases held items from the castle, including a full set of the original iron castle keys.
About half the rooms were finished and plastered, and I finally had a real idea what life inside a castle would have been like. These old stone piles were actually quite liveable, if Neidpath is a good example. It looks like they are actively trying to restore bits of the castle. A lot of the rooms have post and beam floors, probably not new, and it looks like the roof is being rebuilt with the old beams, etc. In one place, you can faintly see painted decorations on the huge ceiling beams.
I don't think anyone is living here in the tower, but it's a neat experience. We walked around to get a good picture -- the views out the back of the castle are amazing. Mark scrambled down to the riverside to take some pictures looking up at this tower. A small plaque notes that the apple and cherry trees were planted by the Girl Guides in 1913. Few of the gardens still remain. There is a house right on the wall (maybe the caretakers?), which included a clothesline in the old ruined house block, complete with pink T-shirts and sheets. Kind of weird.
From Neidpath, we decided to stay in Selkirk (the Royal Burgh of), which is pretty central to the Border Abbeys. The plan was to do that today, but...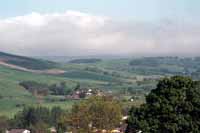 Using the B&B Guide, we decided to just go to Selkirk and see what looked good. On the main road into town, a big Victorian mansion stands on the corner. The Glen Hotel, yet another recently refurbished hotel. We strolled in at 5:30, looked at a few rooms (one with a giant 4-poster bed only available one night) and decided on #6, which looks out west/south with a gorgeous view, for their 'short break' deal -- two nights DB&B for only £76/person.
Mark says we're not spending enough cash, and not to worry. I've just been picking places in the brochures that look cool. We'll find someplace spiffy this weekend. The Glen Hotel is very nice, very comfortable, and very friendly. The beds are comfy -- the room has a double and a twin bed, two comfy chairs, and a desk, plus a big three-bay window sitting area.
We walked into town proper before dinner to take a look around. Everything seems very tidy and clean, as if hordes of maintenance workers descend on the town after dark to pick up litter and clean streets. We had dinner in the bar, served by a nice young man who explained all the stuff on the menu.
We bought gas today, something like £25 for a half-tank of gas. Petrol is expensive here, almost four times what we're used to. I imagine most of it is tax, like at home. It's also weird not to have tax added to stuff -- food, for example, doesn't have tax added, or the VAT is already added in, I don't know. With VAT at 17.5%, it's hard to imagine what Americans would have it we went to a flat sales tax instead of income tax. I think most people belive it would be low: "I already pay sales tax, how much could it be?". thinking it would remain at the 7-8% level they're used to. In some EU countries, it's as high as 26%! I don't think that would go over well. I wouldn't want to pay it, especially not in our consumer-oriented society.
©1999-2001 R. Fingerson