Tomb of Thutmoses III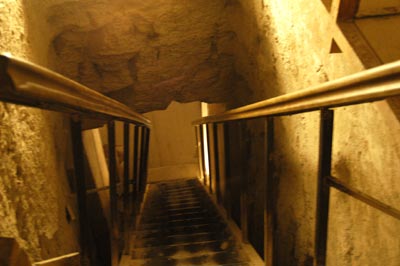 This tomb (#34) is in a separate narrow canyon and up a long, narrow stairway to the entrance. People are ascending and descending constantly, so be prepared for a fast climb. Once up the steep staircase, it's back down into the tomb.
This is one of the oldest tombs in the valley.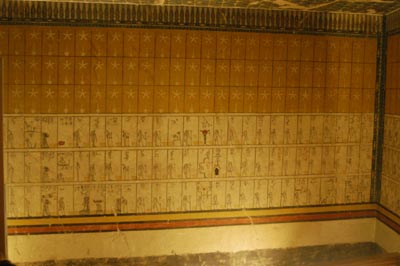 The walls are decorated with 741 stick figures of the god of Egypt -- instead of fully carved figures, the painted (perhaps inked is a better word) deiites mimic the style used on papyrus. They are quite stylized. Parts of the Book of the am-Duat line the walls here -- most tombs contain one or more of the Egyptian books. On one register a series of mummiform figures are meant to represent the forms of Re (seventy four of them) -- the mummiform figures also suggest the dead Osiris.