s a t u r d a y m a y 2 2 1 9 9 9
Despite the room being in the boonies, breakfast of ham and cheese omelets was at least as good as dinner. I checked us out, telling them exactly why (I'm not spending two nights in the pool cabana) and we headed off into the hinterlands. Figuring we were still ahead because of the marvelous dinner, we just cut our losses. Kind of a shame, really, since the main house/hotel is amazing. A marine transport crew were checking out at the same time -- we think they are part of the effort to transport weapons support to Bosnia.
There was a little castle marked on one map (I'm working from two or three at any give time!) that we decided to try to find. We had to make a loop through some road construction and some sort of boating convention, but we finally found Rowallan, which was carefully and blatantly marked "PRIVATE". Hmm. The little plaque on the wall said "Old Rowallan Castle", but someone is obviously living in this little towerhouse, so we snapped a few pictures and sped away. Research later makes me think that we found the "new" castle, since the descriptions of Rowallan imply that it was a much larger structure. Perhaps this was just the gatehouse?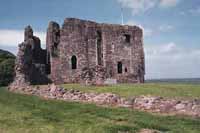 Dundonald Castle sits atop this enormous hill, and the trek up the side was made even more exciting by the rather stupendous windstorm. This is a very simple, very stark tower that was built by Robert II. He was a good king, but very private. The exiting tower is really the re-worked gatehouse of a much large motte-and-bailey castle that had been on the site for many centuries. First, it was a large wooden tower and palisade wall, then a stone castle keep (the reconstructed model looked remarkably like a movie castle), and finally this small, though stout, tower.
The hike up the hill -- and it is a hike, though short -- is very windy and blustery, but once inside the walls, it's very quiet. You can hear the wind, but inside the glazing on the windows insulates the tower.
The Great Hall is quite ruined -- the bare skeleton of walls and arches (which were purely decorative and meant to add grandeur to the stone hall). But beneath, in the leigh, or "Low" hall, the arched ceiling soars to 40' or more, with huge fireplaces and many windows. It's deceiving, of course -- the "floor" is really in he cellar, and the hall above it, but it's an amazing space nonetheless. Even with the wind howling, it's feels solid and secure, almost cozy. It was quite grant, in it's way, I think. A definite show of power.
In the little entry cottage, they've had someone make scale models of the castle in 1200, 1500, and 1600. The change is enormous. A rude collection of wooden huts behind a palisade, then a rough stone square, then a monumental, pennanted Norman fairy-tale castle, then the dour stone keep that we see. An interesting evolution. The current castle is much smaller, much cruder than the french-inspired predecessor (in fact, it is a slightly enlarged gatehouse from that castle). Things backtracked a bit, I think.
Mark found a dummy bullet from 1941 on the grounds behind the tower. Maybe they had military exercises here. It was in some fill dirt, so it probably had nothing to do with the castle, but was pretty cool. We need to make sure he pulls it out of his pocket before going through airport security.
We drove up the coast, trying to find Adrossan Castle from the touring map. No luck. We could SEE it in town, but we couldn't figure out how on earth to get to it! We moved on after two tours around this little harbor town.
Out on a little spit of land, literally 20' from the sea lies another little tower house. Once again, we haven't a clue what it was, or when it was built, but we braved the screaming wind to clamber out over the rocks to get a few pictures. I found out later that is was Portencross Castle -- which makes sense, since the town is called Portencross! The door was locked, but it looked to be complete and certainly well maintained. I'm sure one of the nearby houses was the keeper, but we didn't know who to ask.
The weather was starting to be crappy, spurts of sun followed by brief spits of rain, so we decided to head straight for Bothwell Castle in the hope of seeing it -- one of the largest stone castles in Scotland -- in the sunshine. The directions were pretty good, and we figured we would find it with no problems. Bothwell is about half the size of Erie. We followed the signs. No castle. A closed footbridge, but no castle. And we couldn't see it! How we could miss a 90' tower on a cliff top, I don't know. Around again, trying a different route. Nope. We can see the signs, but... Finally, desperate to pee if nothing else, we stop at a petrol station and ask. Two minutes later, we're in the car park. Apparently, someone stole the final sign that points to the castle grounds and they haven't replaced it yet.
Bothwell Castle is very large, and has quite obviously been rebuilt several times -- walls intersect doorways, square walls hack of rounded baileys..the towers are remarkably complete, though, as is the south range. The bottom tower was the Earl's quarters, he even had a drawbridge to protect himself. Just a bit paranoid. The main tower, which is very large, is nearly 90' tall from the base of the rock cliff on which it stands. Pretty impressive. Quite a few of the rooms are not accessible, but it is a stunning castle.
It started to rain in earnest, so we packed up and sat in the car trying to figure out where to go. Looking through the books seemed a bit fruitless, but we ended up parked on t he side of the road looking through them. I liked Culcreauch Castle, Mark found the Stirling Highland Hotel. We went off in the rain to call. #1 was booked, so he booked us into the Stirling Hotel. I took a look at the description and flipped when it said 'restored high school'. Convinced that it would be another pool cabana. I think I was having a hissy fit -- Mark was quite gracious about it. What a nice man.
The hotel actually turned out to be quite nice. It was a turn of the century boy's academy, with a new wing of bedrooms. A modern room, but quite comfortable. Even had a normal shower. They didn't have space at dinner for us (we came in late) but the receptionist suggested a few nearby restaurants. We walked down the hill, staring into shop windows and looking at the neat buildings, to Italia Nosca. Good Italian food -- served by a strange conglomeration of an Italian family and hired Scots waiters. I think the wine went a long way to settling us both down.
We finally called home to check on the beasts. Things are going fine, and Mark is spoiling them rotten. No worries, although he yelled at us for not calling when we arrived, as promised. It completely slipped my mind!
©1999-2001 R. Fingerson
---

I t i n e r a r y &nbsp a n d
P h o t o g r a p h s


---

A y r s h i r e /
L a n a r k s h i r e
Ayr
Rowallan Castle
Dundonald Castle
Ardrossan Castle
Portencross Castle
Bothwell Castle


---

l o d g i n g

---

Stirling Highland Hotel
A Grand Heritage Hotel
Stirling
44 (171) 244 6699