f r i d a y m a y 2 1 1 9 9 9
Friday dawned blustery and rainy. The news says it would clear up fairly soon, but it's supposed to be windy and blustery all day. I guess my idea of blustery and windy is pretty calm in comparison to a 'bit windy' in Scotland! One second sunny, the next second the clouds roll in (fast!) and it's suddenly gray. The wind was blowing hard enough to lean into it like a bad mime, and sort of stand there, un-vertical.It was a struggle to get up the hill to Hermitage Castle, after twining our way down one lane roads and tiny bridges. I'm very glad I had a good coat!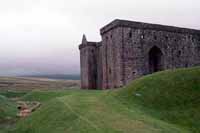 Hermitage Castle is a square, stocky fortress, very heavy and forbidding. Quite a lot of the inner bailey was covered in scaffolding. The administrator told us that it was for repointing, the first time in 300+ years. There weren't working today, because of the wind, which howled around even the sheltered areas inside. I'm amazed that the pictures aren't blurry.
Marks gets very frustrated that I am so paranoid about the camera. I'm convinced that getting it wet will cause it to self-destruct.
From Hermitage, we headed to Caerlaverock castle, which is #1 on my list to see. On the way there, we literally stumbled onto Torthorwald Castle. We were just driving along and had to stop to see a pile of rocks. We couldn't get too close, but pulled over to take a picture. I'll have to look it up later. We spend alot of time turning around. We usually zoom right by whatever we want to see, past the right exit or roundabout, or turnoff and have to do precarious u-turns in the road or lurch off some side street to loop back. It's a bit frustrating, I'm sure, but we are getting pretty good at it. We've got some really good pictures that way. Of course, Mark is going to stop pointing out 'piles of rock' by the side of the road. I spy them out of the corner of my eye and we screech to a stop.
A quick side-jaunt down a dirt road led us to Lochmaben Castle. This castle is completely ruined -- and looks as if it is being eaten by the greenery and vines growing over it. There is the stump of a tower remiaing, but the rest of the walls are just piles of rock that are slowly collapsing. We were the only people there, and wandered around the site for a bit trying to figure out where the castle was.
We stopped in Dumfries, and made three turns around the parking lot before we could find a parking spot, in a 'disk zone' no less. You get a freebie cardboard disk thing that you set to the time you park, throw it on your dash, and they can track how long you've been there. The Tourist Info center was not much help in finding a place to stay, which is why we stopped. They only handle local stuff, unlike the smaller offices which were staffed by really helpful people. We decided to try on our own later and took off.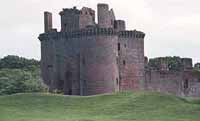 By the time we navigated through Dumfries and back down the tiny road, the sun had come up. Caerlaverock is AMAZING! It really looks like what I imagine a castle "should". The front is in great shape, although the back walls are crumbled. The interior is in good shape as well. The insides of the towers are gone, obviously, but you can see the remains of the living quarters inside.
Mark spent a lot of time figuring out how the attack that resulted in it's destruction was done. He was fascinated by the siege engine models outside the gates. Later in the summer, Historic Scotland is putting on a reenactment of the siege...I'm sorry that we'll miss it.
It was windy enough that the moat (yes, there is a moat!) was choppy, but inside you could really ge a feel for the grandeur of the place. The residential block had row upon row of windows, each topped by a carved pediment, all very ornate and detailed. Compared to the simplicity of the outer wall and towers, it was a pleasant surprise.
Behind the existing castle, a short walk through the woods is the site of the original castle. It was a bit too far out into the swamp and was abandoned after 50 years. Historic Scotland is in the process of excavating the old site, identifying walls, and stabilizing the ruin.
The only way to get to Sweetheart Abbey is back up the peninsula through Dumfries. After a quick discussion about stopping at the Tourist Info center, we trundle off.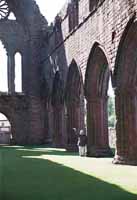 The first thing that strikes you about Sweetheart Abbey is that it is amazingly complete. We're getting better at identifying the rooms and layout of the abbeys now. Also, the entire interior of the Abbey is carpeted in grass that the best golf courses would envy. It's carefully manicured, clipped, putting-green kind of lawn It's the strangest sight -- these huge weighty columns surrounded by verdant green carpet.
The Abbey was designed and built by a woman named Devorgilla (eek!) for the memory of her husband. Apparently this slightly ghoulish woman carried the embalmed heart of her husband around her neck until she died. Eeeu. The heart was considered the home of the soul, and she wanted the soul of her husband with her until she joined him. Still sounds slightly ghoulish to me.
I still cannot imagine life in one of these unheated, unlighted piles of rocks. Cool, maybe, but give me flush potties any day. And some -- nay, most -- castles have little latrine closets (the original bathrooms) that simply open up to the outside wall. What a way to repel invaders -- poo on them! Plus, get a good windy day and whee!!! Just a bit too exciting for me. Mark just made a really bad joke about a pigeon. You really don't want to know.
We called for a reservation at Fairfield Country Hotel, which was a home of the Glasgow tea merchant and is a cool looking house. We got the last room, after spending 10 minutes crammed into a phone booth trying to figure out the workings of a British Telecom pay phone to dial local calls. The hotel is in Ayr, so we stop as Sanquhar Castle on the way through. The ruins of the castle are literally 100 yards off the main road, barred only by a low sheep gate.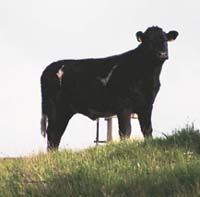 Cows are grazing all over the land this ruin sits on. Sanquhar is a pretty interesting castle, in terrible shape -- covered with graffiti and littered with fallen rock. A tiny donjon on one side, with a fairly substantial entrance arch. There's a small 3-storey tower on end, which looks fairly unstable to me but Mark clambers up into the tower and waves out the third storey window. Eep! While we were inside, the cows move around and block the path, staring at us in the placid way that cows have. There's a big black one with a 'real seal' check (or Nike swoosh, take your pick) on one side. We wade through the herd in time to see sheep racing by with dogs in hot pursuit. At first we thought the farmer was working the flock, but we realized they were simply pets having an adventure.
The hotel is very spiffy, but they put us in the pool cabana!! Seriously, this is a very opulent mansion with a few attached newer wings -- but our room is OUTSIDE, and only reached by walking around the conservatory restaurant or through the pool maintenance rooms. I was so mad I was seething. I'm paying $200 a night to smell chlorine? Admittedly, we got the last room, but they should have warned us. The room was large and comfortable, with new furnishings and very rich linens, it just felt like a second class strip mall.
I can't complain too much, though. Dinner was fabulous! It almost made up for the room. Mark had chicken wrapped in parma ham and I had probably the best salmon that I've ever had. We had a bottle of wine (with a real sommelier, to boot) and it was very memorable. We worked out our grumpiness about travelling together -- I had to plan a bit more what we were doing each day, and he promised to stop being a destination nazi. Since we've never travelled together before, the fact that we managed to work out our differences in travel style over a fabulous meal and memorable wine...not too bad.
There's something really funny (funny ha-ha and funny-strange) about washing your underwear in the sink of a $200 per night hotel bathroom. Kind of surreal. The hotel would do laundry, but they wanted £1.50 for a single pair of underwear. I didn't pay that much for it new. We washed socks and underwear in the sink and hung them over everything to dry.
©1999-2001 R. Fingerson