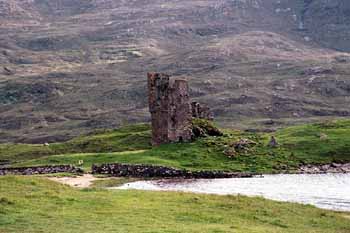 The tower of Ardvreck castle, seen from the road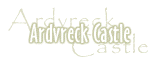 Ardvreck castle was originally the property of the Macleods of Assynt. Later, James Graham, Marquis of Montrose, took refuge here in 1650, but he was betrayed by Covenanters and executed by drawing and quartering in Edinburgh (ugh!).
While much ruined, Ardvreck is a keep of three stories, with a round stair turret corbelled out to a square caphouse (see Burleigh Castle for another example of this style). There are shot holes in the walls and the stone foundations that can still be seen originally surrounded a walled garden. The grounds of the castle are actually lower then the surrounding road, and it's quite a hike to get down to the shore where the castle sits.
Ardvreck is really quite large -- we followed the stone foundations, now covered with grass, out for quite a ways. The remains of the standing tower are just a tiny part of the castle itself. The castle grounds jut into the north end of Loch Assynt. All we could see from the road was the tower, but Ardvreck must have been an imposing castle when it was built.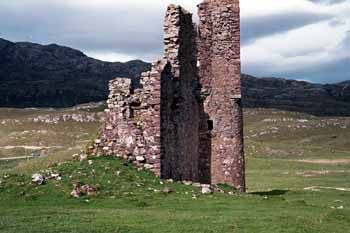 A closer view of the tower and round stair turret
Not much remains of the tower or stair turret except a thin sliver of wall. The three basements were vaulted, although much collapsed. The ruin is posted as being very dangerous, but other than some loose stones in the collapsed basement, it seems pretty stable. I did have to convince Mark that climbing into the exposed (and collapsed) cellar wasn't a very good idea, though.
The castle is reputed to be haunted by the weeping ghost of one of the daughters of a Macloed chief who lived here, who died by jumping from a window. A tall, grey-clad man has also been seen. You know, we haven't seen any of the ghosts yet. Nowhere. Hmm.

Mark considering going down into the collapsed vaulted cellar