Tomb of Shoshenq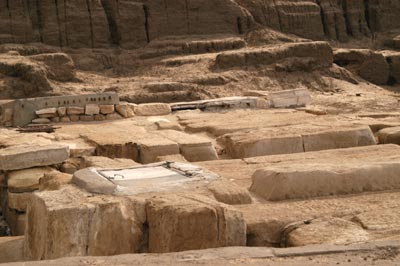 mastaba toms in the royal necropolis
\In comparison to the New Kingdom tombs, those at Tanis are small and undecorated. They contain burial items (such as canopic jars and funerary items) that are of fine workmanship, but overall, the tombs seem somehow hasty and poorly made.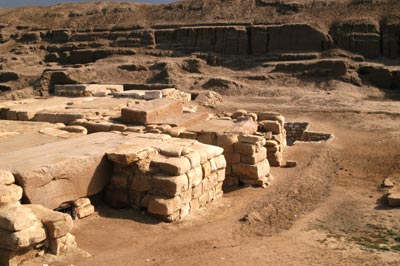 mudbrick and salvaged-stone mastabas inside the walls of Tanis
There has been a tremendous amount of jewelry and metal decorations found in the tombs here, but strangely, the sarcophagi and items from earlier burials are reused in the tombs, suggesting that the kings in the north were poor and weak. The Egyptian Museum in Cairo contains an extensive exhibition of burial goods from Tanis.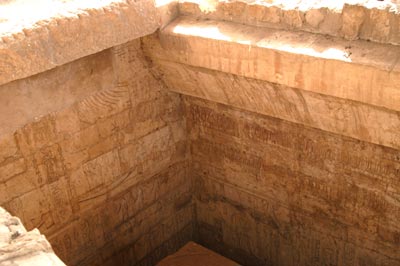 burial chamber of Shoshenq III
The open tomb of Shoshenq III is surrounded by a rickety walkway, to see down into the mudbrick and stone tomb. The sarcophagus of Shoshenk III is still inside the tomb. The sarcophagus was carved from a Thirteenth Dynasty granite lintel, the lid was carved from a Ramesside sculpture. Like everything else at the site, it is made of the salvaged stone.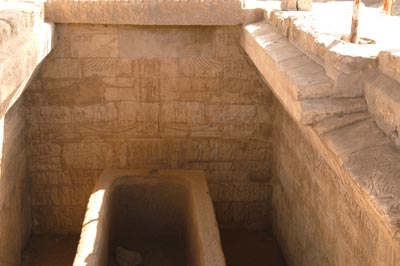 burial chamber, including the sarcophagus in place
The tombs that have been found usually contain multiple burials and reused pieces. THe interior carvings, though, and fine work. >> more >>