Giza Sound and Light Show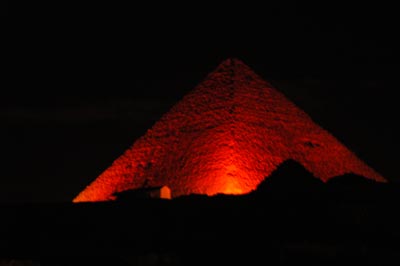 the great pyramid
One of the most advertized tourist "things" around the pyramids is the Sound and Light laser show -- a display of flashy laser pictures, lights, and excrutiatingly cheesy narration
The show is worthwhile, if only to see the pyramids and the sphinx lit dramtically against the night sky. But, you definitely have to cringe at bit at the hammy overacting of the English version. The show is produced in several languages, so I have no idea if the others are as stiffly done.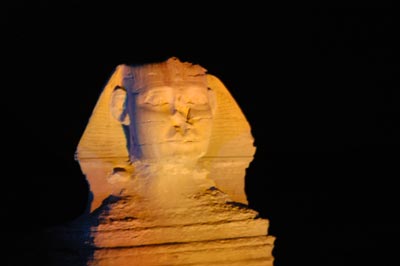 the face of the sphinx
The show is performed three times daily, each in a different language, so be sure to choose the one that you understand. Actually, in restrospect, I would suggest going to the one you can't understand...it might be just as fun!
| | | | |
| --- | --- | --- | --- |
| Monday | English | French | German |
| Tuesday | English | French | Italian |
| Wednesday | English | French | |
| Thursday | Arabic | English | Japanese |
| Friday | English | French | |
| Saturday | English | Spanish | |
| Sunday | French | German | Japanese |
The show is staged from the plateau, where they set up what seems like acres of chairs. Make sure to go early, or you'll end up sitting in the back behind the busloads of tourists who will be whisked through the gates. This is especially important if you want to try to take pictures with a tripod, as we did. We ended up sitting behind a group of italian travelers, and couldn't see a thing until we bullied out way to the edge of the row.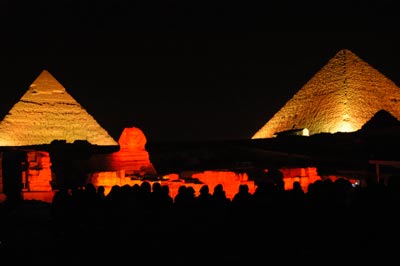 the plateau, seen from the back of the crowd
.