more photos
[ 1 ] [ 2 ]
site information
1900, 2015, 2130 daily
also 2245 fri, sat, sun
E£33 entry fee
E£30 video camera
camera free




this site
S&L Giza Plateau
S&L Karnak
S&L Philae
S&L Abu SImbel
photos

Sound and LIght Show, Karnak!
The allure of the Karnak Sound and LIght show is that you can walk through the beautifully lit ruins at night, following the narration as it moves through the courtyard, the dark, forest-like hypostyle hall and then across the way to the sacred lake for the rest of the story.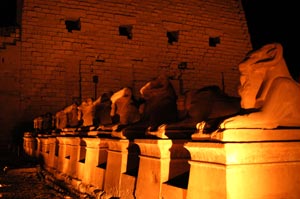 We befriended one of the tourist police, who made sure that we got to the front of the line for each part of the show, and tipped us off to make a run for the bleachers to get a good seat for pictures at the sacred lake. We chatted with him for a while after the show, too. He was very nice.
THe show is -- well, it's all a bit cheesy, really, but it's fun.
For Friday, Saturday and Sunday, the shows are in the following languages:
| | | | | |
| --- | --- | --- | --- | --- |
| Monday | English | French | Spanish | |
| Tuesday | French | English | Italian | |
| Wednesday | German | English | French | |
| Thursday | English | French | Italian | |
| Friday | French | English | Spanish | |
| Saturday | French | English | Italian | |
| Sunday | German | English | French | Italian |