Temple of Kom Ombo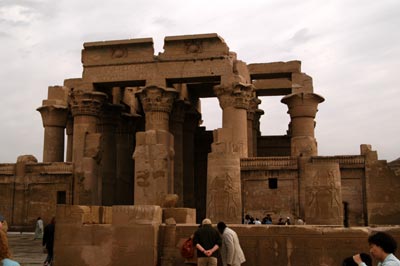 Just a short drive from Aswan, the Temple of Kom Ombo is decidated to Haroeris and Sobek -- a strange, mirror-image temple that has two halls, two sanctuaries, and is dedicated to two different gods.
The banks of the Nile here were the basking place for crocodiles (although there are no longer crocodiles north of the High Dam). The crocodile-headed god Sobek was a logical choice for a temple here, and several mummified crocodiles were found in the temple precincts.
The temple was buried to the lintels in sand and silt, which protected the reliefs for centuries. It is roofless today, and was damaged in 1992 in an earthquake, but the small temple is very imposing. Even though the sand left behind by the Nile inundations covered the temple and protected it, the waters themselves washed away the foundations under the courtyard and forecourt.