Temple of Edfu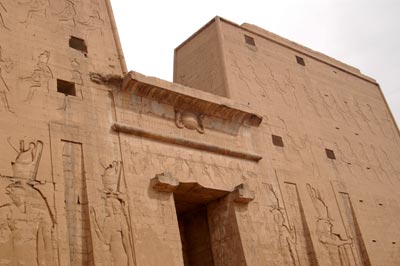 Edfu is about halfway between Luxor and Aswan. The temple here is dedicated to Horus, and is the most complete temple in Egypt. It is a greco-roman temple, begun by Ptolemy III in 237 BCE and took twenty-five years to finish. The final touches on the temple were added by Ptolemy XII.
Nearly the whole temple was buried in sand until the 1860s, with a village built over the top of the buried columns. It wasn't clmpletely unburied and restored until the turn of the century. INhabitants of the town had used the buried halls as houses, and soot and smoke on the ceilings caused a lot of damage.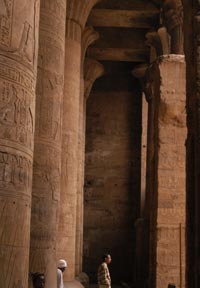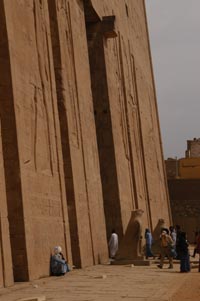 The entrance to the site is from the back end of the temple, so you have to walk along the huge walls to get to the "true" entrance in the first pylon. The enclosing wall is covered with reliefs of vultures and falcons.