Sacred Lake
Temple complexes were more than just 'churches' for the worshippers of Amun and the Egyptian pantheon. THey were cities, housing the priest and their helpers, with extensive grounds for storage, preparation, rituals, and often-times living quarters fo the pharaoh and the priests.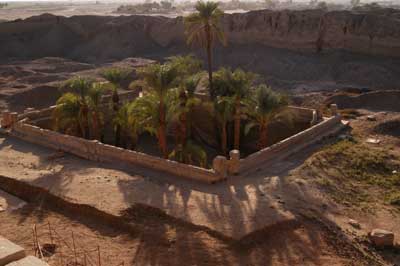 Nearly all the temples had a sacred lake within the grounds of the temple (within the enormous outer walls). It was often linked to the Nile by a causeway and -- according to our guide, at least -- was used for ritual purposes.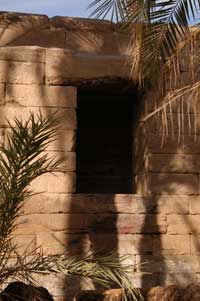 The 'lake' here is tiny, and much more reminiscent of a swimming pool than some great sacred waterway, but it is the only one we say in good repair. It's filled with greenery -- it sems that the bottom of the pit remains moist even now. A stairway on the near corner allows you to walk all the way down tothe bottom.
There is a passageway int eh wall that leads to the temple (we weren't quite brave enough to climb up and itno the hole) and allowed the priests access to the sacred lake without having to step outside the sanctuary.