t u e s d a y j u n e 2 1 9 9 9
Down the coast and across the water to Skye! Today dawned bright and sunny, and is supposed to stay that way all day. So, in short sleeved T-shirts, we head off. Just outside Ullapool is a cool gorge with a 200' Mesach Falls. The gorge is steep and deep and we pulled off into the designated parking area and were immediately joined by two tour busses. One of English tourists and another of German tourists. It was crowded.
There's a little promontory view with a huge warning sign that only two people can go out at any time, in three languages. So we wait with a bunch of old English couples for our turn to see the falls. It's dark back up near the falls, but we try to get some good pictures. Farther up the path is a suspension bridge to see the falls (again with warnings that only 6 people can be on the bridge at a time). Neat. The bridge sways, but not as alarmingly as yesterdays at Rossal.) and the height is a bit nervous.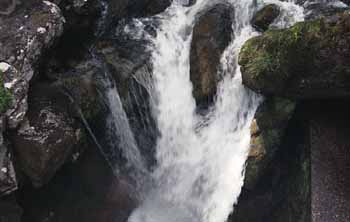 The road winds around Loch Broom and Little Loch Broom. We pull over at another falls to take more pictures. More gorgeous scenery -- "Ooh! Ooh! Pull over. Beautiful Scenic!" -- that we stop to take pictures of at regular intervals.
The Bridge to Skye is pretty recent. Until it was finished several years ago, the only way to the Isle of Skye was by ferry. It's also expensive to cross. It's a short bridge -- considering that the islands are really about 200 yards apart at some places. There are a lot of people who commute to the "mainland" each day, a trip which would have been by car-ferry each day before the bridge opened. The ferry still runs, too -- it can't be more than a five minute trip!
Skye is, as advertised, pretty. Very green and, like the rest of Scotland, misty and romantic. We decide to run south to see Dunbeath Castle, although there isn't much left, so we don't stop. Farther on we stop at x, and then took back up to Dunvegan. Tons of little towns and gorgeous pink tinged mountains. The mist starts coming down over the tops of the peaks and I understand why poets waxes rhapsodic about the Isle of Skye.
About the time we found the Atholl House Hotel, a helicopter (!) landed in the field next to the hotel. A film crew had run over and needed to find a place to stay. They just flew over and "saw the sign". Interesting, and very odd.
The hotel was very nice, and dinner was (as we were getting used to) amazing. We've been very lucky with meals -- of course, following the Taste of Scotland book around certainly has helped. Mark had lamb -- I can't eat it, they're just too cute, and he had to peel my prawn salad for me. I hadn't realized that it would come with whole, unpeeled buggies on it. I love shrimp and crawfish, I just can't bear to touch them when they have legs. He must really love me.
We met another English couple in the lounge after dinner. They were very nice. They holiday every year on Skye (for 8+ years now). Kind of an odd couple, really. She's a Welsh school teacher and he looks like a rolling stones groupie. Rolls his own cigarettes. They were very interested in our experiences here with gun control. They were very surprised at our surprise that bobbies here carry no guns, and why we felt it was ok. They seem to feel (he does, at any rate) that having guns escalates a problem. A simply confrontation might automatically have a gun pulled if the situation gets hot. It seems as if everyone here thinks we're still the Wild West -- everyone walks around with a gun stuck in their waistband or a holster and there are shootouts in the streets. This part of our culture just perplexes them to no end. I can't comprehend sending a police officer into a domestic dispute without a gun. What are they supposed to do? "Stop! Or I'll say Stop again!". Of course, once we think about the fact that no one else has a gun, it's a bit easier to understand.
We didn't go to bed until after midnight. Breakfast was good, and the helicopter was still here, of course. I wonder if the farmer was upset that the helicopter was parked in his field?
©1999-2001 R. Fingerson