m o n d a y m a y 3 1 1 9 9 9
We need to do laundry again today, we're getting a bit stinky. We should be in Wick or Thurso tonight, and we'll have to find a launderette again. Our first stop is a ruined castle just north of Dornoch -- Skelbo Castle. It sits on a hillock in a sheep pasture -- marked DANGEROUS and NO TRESSPASSING. We took pictures from the road only.
We arrive at Dunrobin Castle before it is actually open, and sit in the car park for fifteen minutes or so. Dunrobin is not really castle-like at all. It looks more like a Disneyland fantasy castle or a French Chateau instead of a Scots castle. It's really a baronial mansion that has been updated and rebuilt and added-on for centuries. Some parts are grey stone, others harled white, and still others are pale facing stones. We never did go inside -- the queues of tourists lining up in front of the doorway drove us away and we drove on up the coast. Dunrobin is another of the museum-piece castles, and I think we're going to avoid them in the future.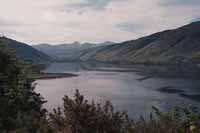 The road around the northeast coast, near Loch Broom, has some amazing views and a very picturesque progression of towns. It's honestly not as green up here as it is in the Lowlands. The hills are covered in what we think is heather. There are no blooms now, and it's grayish green, but it must be covered in purple blooms in late June and July. It's all quite barren right now.
For all the talk of horrid roads in the Highlands, they have been very well maintained. Of course, we're on the only road in some areas -- even the OS maps have roads marked unusable by virtue of conditions or private roads. Lots of farming tracks that still look like wagon trails.
We turned up one of these tiny roads to see the Grey Cairns -- 5000 year old burial mounds in the middle of nowhere. They're interesting, until you realize that they've been rebuilt using cement beams and plaster to 'recreate' what they must have been like. They haven't remained standing by themselves. The gates over the openings were barred by not locked, so we figured it meant we could crawl inside. Inside the narrow stone piles, we realized they had been rebuilt...prehistoric people didn't use concrete beams and Plexiglass domes. Still, they were carefully recreated on the historic sites and the interior supports are meant to maintain the crumbling state they are in. They are not fake, just artistically maintained, I think. It's a strange realization -- people have been living and farming and dying on that land for over 5000 years. Some things haven't changed much.
The teeny road kept on, so we followed it, figuring it had to end up somewhere on the map! Lots of 'sheep in the road' up here. Sheep are stupid. They just stand there and you have to wait them out since you're not supposed to honk or otherwise scare the lambs. How something as cute as a lamb can grow up to be as stupid and smelly as a sheep is beyond me.
A few times you see a lamb 20' from all the other sheep and it's mom. It's the most pathetic thing you've ever heard. Once the lone sheep is out of sight of the others, it starts to moan... "I'm loooooooost!! I'm sooooo looooooooost. Woe is me, I am loooost" It's comical. As soon as they turn around and see the other sheep, they're fine. Stupid.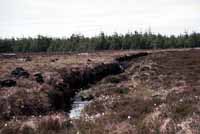 We finally found a mapped road in time to head into Wick and figure out where to go next. We actually drove through a real working peat bog. Ditches where they cut the blocks of peat from the 3'+ thick layer of wet, soggy peat, and wooden frames where it is stacked to dry. The ground appears to be peat moss for a couple feet down. It's all done by hand. I don't think they could get a vehicle out on the soggy moor.
We tried twice to find the Old Castle of Wick. No luck. We did stop at Caithness Glass and watched them make the distinctive paperweights and candlesticks. They have the processing line open on one side and you can watch them blow and press glass. It must be awfully hot to work in a glassworks. It was hot just watching and we had AC blowing on us.
Driving just a bit north, we followed signs into Noss and to Castle Girnigoe/Sinclair. It is two castles, but they are literally 20 yards apart, Castle Sinclair being built in the bailey of Girnigoe. At this point, they both are ruinous and the site is very dangerous. It sits out on the sandstone cliffs that are wind-etches to the point of looking fragile. It looks like a stack of thin pieces of rock.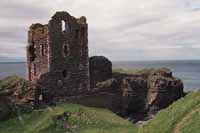 The promontory is a towering stack of sandstone cut away from the cliffs. It's interesting to look at, but the grass and moss on the top tend to overhand the clifftops, making the walk out there a bit too scary for me. I did clamber out on a spit of rock about 3' wide for one of the pictures, but retreated almost immediately when the edges got a squishy.
Mark climbed down to the rocks to the beach. He had the car keys, so I was a bit worried! but I figured he's scream if he decided to fling himself into the sea. Then I'd be able to retrieve the keys from his bright red jacket, which would be easy to find.
Keiss Castle both old and new, were farther up the coast, but this small ruinous castle sits on a cliff at the ocean, behind the "new" castle. We couldn't get close, and the entrance to the current mansion, which ostensibly owns the old one, was not hospitable looking. I wanted to knock on the door, or creep through the pastures but I was vetoed. So, only a single picture from the road. Thank goodness for a good lens!
Up to John O'Groats, which is heralded as the most northerly point on the mainland of Great Britain. There's a sign that reads Welcome to the land at the end of the road, which we thought said Welcome to the end of the road, which is much better, I think! This town banks on being the end of the North-South trek of millions of tourists...it's a little overeager, maybe.
The views are pretty impressive, I will admit. You can see the southern bits of the Orkneys and some other islands, and the nearby Duncansby stacks are worth the trek out over the marshy bog. I hate walking on this spongy, boggy ground. I keep waiting to sink in to my knees. Your feet squelch when you step on it. The closest I can come is it's like walking on a soft, damp Twinkie. It has the same sort of spongy "give".
From John O'Groats (named for a Dutch trader, Jan van der Groot, I think) we went directly to Thurso. The B&B is small -- and the bed not quite comfortable -- but cheap and clean. We ran out for surprisingly good pizza for dinner and crash.
I really wish hotel/B&B owners would think about light levels in rooms. It's only dark for about three hours at night, and the rest of the night is twilighish, at best. It's hard to sleep in, and we've resorted to hanging towels over the windows in some places. Some have lovely, heavy blinds and drapes that darken the rooms. Next trip, bring eye shades.
©1999-2001 R. Fingerson