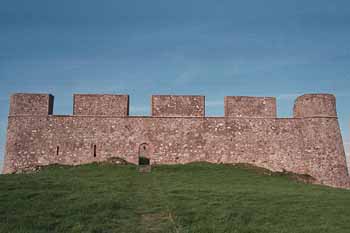 Only a simply 18th century folly built on a high hilltop remains of Hume Castle

Hume began as a high walled enclosure castle of the 13th century, but much later altered. Little remains of the original building, which stands on an imposing hill overlooking the town. The castle, which now only a simple folly built in the 18th century, actually looks as if an enormous castle tower (complete with it's toothlike top) was built on this site, and then buried nearly to the top. A giant's tower. Before, of course, it was a substantial fortress on the same site.
The castle was dismantled once in 1515, but in 1519, Sir James Hamilton of Finnart spent £690 rebuilding it. In 1557, Hume served as base for Queen Mary of Lorraine when an invasion of England was intended. The scenery from the walls is amazing, and would certainly have given the defenders a panoramic view of any attackers.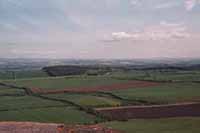 Hume Castle was an important stronghold of the Hume family. It was considered impregnable before the advent of gunpowder, and served as a watchtower and guardian on the Scottish Borders. However, the castle was captured by the English in 1547, although only after stout resistance by Lady Home, her husband being killed in the Battle of Pinkie the day before. In 1549, it was retaken by Lord Hume, and the English garrison was slaughtered. It was once again taken by the English in 1569 by artillery, which seems to be the downfall of many of the huge stone keeps. It was surrendered to the English in 1650 and demolished. The Hume family moved to The Hirsel nearby, and the castle was not rebuilt.
The ruin passed to the Earls of Marchmont in the 18th century, and the castle, which is now almost level with the ground, was rebuilt as a crude folly in 1770, incorporating the old foundations. Follies were built by many families as a sort of hobby, I think, as places to have picnics or entertain, but not meant as residences. Much of the stone from the original castle was plundered by local builders.
What remains of the castle is a strange, toothed, wall. On the west side are the entrance and two loops with top and bottom roundels that probably date from 1515. At the NW corner is a latrine chute, and a small round turret. Inside, mostly bare ground reveals little of the original layout of the castle, although the foundations of a large tower are visible as bare stones in the dirt. The ground slopes unevenly inside the walls down to a walled-off corner that may have been an original cellar.
Hume has been used as a lookout and beacon station from the Napoleonic Wars to as recently as World War II.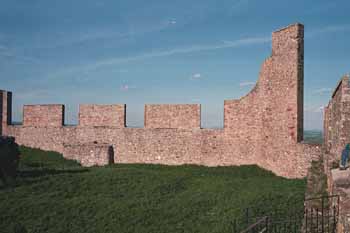 Nothing remains of the original castle inside the high folly walls
---

Hume
Borders
3 miles south of Greenlaw
on B6364
NT 704414

---

l i n k s


---

Hume castle
1995 Pictures