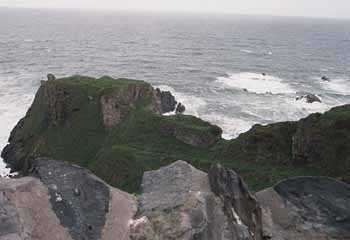 Findlater is barely visible in the pounding surf
We had to follow some tiny signs and through a few gates to get near this little castle on the shore. The wind was blowing fiercely -- we were crouched down behind a stone wall to even get the camera steady enough to take these pictures. The blurs on the edges are probably Mark's arm as he tried to keep the driving rain off me, or the camera getting caught by a gust of wind!
Findlater is very dramatic. A long narrow spit of rock projects from a small bay ringed by cliffs up to 45m high. It can only be reached by a causeway in which there is a break in front of the former gateway spanned by a moveable wooden bridge. The summit has a sheer drop of about 100' to the sea on the east and very steep crag on the west. Given the wind, we didn't try to climb out to the castle, although we can see the path and causeway quite clearly. I didn't fancy trying to walk the top of the little ridge with the gusts we were battling.
The castle was probably built in the mid 15th century. The buildings on the west date from 1455, when James II allowed Sir Walter Ogilvie of Deskford to fortify this site. About 1560, the Ogilvie Laird argued with his son, disinherited him, and signed the properly over to Sir John Gordon, third son of the Earl of Huntly.
In 1562, the Gordons rebelled against Mary. refusing her entry to the castle, and when they were defeated at the Battle of Corrochie, the Earl was beheaded and the castle was abandoned in 1600. It was in ruins by 1638 and has not been habitable since.
A portion of walling survives, with fragments of a building at the north and foundations of two other buildings on the east side. Parts of a retaining wall on the northeast also survive. Most of the existing buildings at the courtyard level are entirely gone, but two stories of vaulted rooms remain, which can be seen by the row of windows in the pictures. Below this set of room is a large kitchen and two other vaults, one of which was a dungeon reached only by a hatch. Quite a bit more of the castle has already fallen into the sea, and the ruin is classified as 'Dangerous'.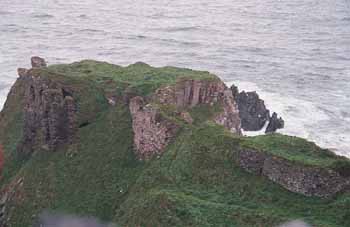 A closer view of the ruined foundations and cellars on the clifftop
---

Findlater
Banff
2 miles east of Cullen
north of A98
on a footpath
on the shore


---

l i n k s


---