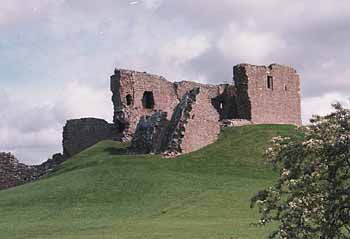 The dangers of earthworks: the fallen corner of Duffus looks like it is sinking into the soft motte

Duffus is one of the oldest mottes in Scotland, it was much later converted to stone. the castle was begun by Freskin de Moravia, a norman-scottish baron in the reign of David I. (1124-53). The king was at the castle while supervising the construction of a nearby Cistercian monastery of Kinloss.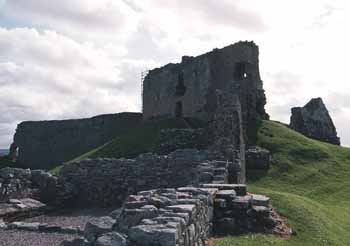 Only the foundations remain of the kitchens, stables, and other outbuildings on the man-made motte
Duffus is the best preserved example of a 12th century motte. Duffus began as an earthen motte surrounded by a ditch and bailey. A wooden tower and timber wall were completed in the mid-twelfth century. It included a wide outer bailey and wet moat, a walled and ditched inner bailey, and a large, man-made motte (earthen hill). The castle was surrounded by the now-drained Loch of Spynie. The ditch was possibly more for drainage than defense.
It was held by a supporter of Edward I of England in his campaign to establish himself as king of Scotland. In 1286, Regenald Cheyne obtained the castle by marrying into the Moray family. He supported Edward I, and was granted 200 oaks from the forests of Darnaway and Longhorn to repair his damaged castle. The castle had been burnt by Scottish patriots but was rebuilt in 1300, probably with a stone wall and the beginnings of a stone tower. In the 15th century, a range of buildings along the north side were added. These are now in ruins. Their descendants remained at Duffus until 1705, when it was sold to Sir Archibald Dunbar. It was burnt again in 1452, and was abandoned for Duffus House nearby in the 17th century.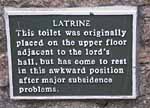 A fine example of Scottish understatement. "Subsidence", indeed!
The stone great tower is rectangular, rising from a splayed plinth of ashlar-faced stonework. It was probably not much higher than the current ruin. There are three stories, 67 x 50 ft, with walls about 8 ft thick. The stonework itself was of good quality, but the foundations on the earthen motte were unstable and the north-west corner of the great tower broke away from the rest of it and slid down the motte. This was due to faulty foundations, although the small sign notes only a 'subsidence problem'.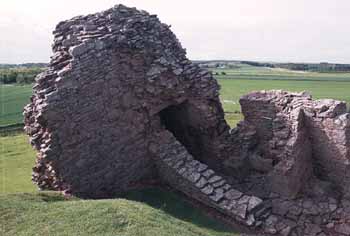 The fallen corner of the massive tower, still in remarkably good shape
Duffus
[ 1 ] 2

---

Old Duffus
Moray
3 miles north-west of Elgin
Between B9012 and B9135
1 ½ miles from Duffus
Historic Scotland


---

l i n k s


---