Tombs of the Workers

Above the village of Deir el-Medina is a hillside filled with small tombs for the artists, sculptors and laborers of the Valley of the Kings. Only a few of the tombs are open, and we didn't get any pictures inside of them. I wonder if we could have managed to get a camera down into the tombs if we'd tipped the right guard, but we didn't try. Guides aren't allowed inside the tombs -- there isn't any room for them, anyways!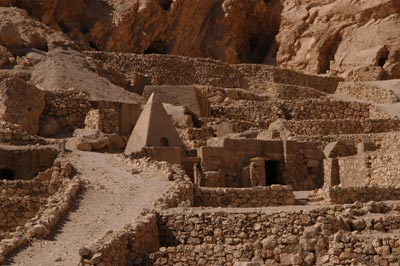 Tomb of Sennedjem
THis tomb sits under a small, steep-sided pyramid and has a vaulted burial chamber. The murals are still very colorful. This tomb was found undamaged in 1886.Unlike many of the nearby tombs it had not been defaced. The small burial chamber is only 6m x 3m, but it held the mummies of Sennedjem, his wife, his son and two daughters-in-law. The tomb had not been looted, but the funerary objects and treasures were quickly taken and given to museums around the world.
This is a small, deep, and very hot tomb -- down a ladder into the burial chamber with colorful and very lifelike scenes of Peshedu beneath the tree of life. The guard here offers a sheet of cardboard as a fan, but it's still a bit stuffy here.
Tomb of inkherha
This tomb has an elaborate ceiling and scenes of Ankherha with the gods. On the walls are register after register detailing the events of Inkherha's life. We didn't go into this tomb.
Tomb of Peshedu
Peshedu's temple is in very good condition. It was only opened in 1998 and is comparatively light and airy. The first chamber -- which is reached by a steep and narrow staircase -- is undecorated but further inside the decorations are colorful and in very good repair. Anubis is painted as a jackal on an altar. INthe burial chamber is another representaiton of the Tree of Life and inscriptions of the Book fo the Dead.