Red Pyramid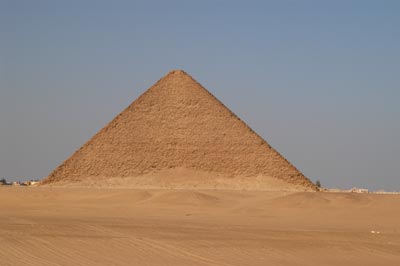 the first true pyarmid, in the desert of dashur
Sneferu built three pyramids, two in Dashur and one in Maidum. The Red Pyramid is his second effort, and is the first true "pyramid-shaped" pyramid built. It is very large -- only the Great Pyramid at Giza built by his son Cheops is larger -- and has the interior structures are remarkably similar to its larger, younger cousin.
This is the first pyramid built as a pyramid shape from the start (prior pyramids were built as step pyramids and the "filled in". ) Some of the original facing stone remains on the east side, but the bulk of the exposed stone is a reddish local limestone.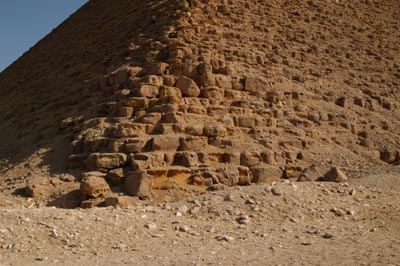 all of the casing stones have been removed, leaving the reddish limestone core
The Eyewitness Guide oddly reports that the Red Pyramid is so-called 'because of the ancient red graffiti found in side". That is the first time I've heard this -- especially since the pyramid is quite obviously reddish all on its own. Up close, though, the interior of the blocks are quite yellow.

the inside of the stones looks almost yellow, and soft
The Red Pyramid is only slightly smaller in area than the Great Pyramid (about 220 m square), but the angle is much lower. It honestly makes the pyramid look much larger, I think. It's hard to comprehend the size of the thing, and so the gentle slope is a strange optical illusion.
The remains of the limestone pyramidon (the single capstone of a pyramid) have also been found, so we know that the pyramid was indeed finished. It is younger than the Bent Pyramid, and seems to have been built with the well-learned lessons of the earlier pyramid in mind.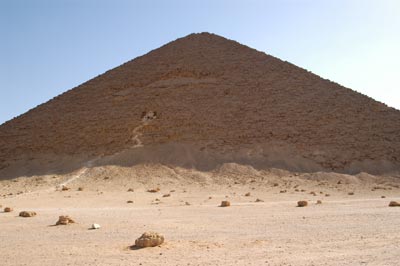 the face of the shallow red pyarmid
It's a long trek up to the entrance of the pyramid (and you can see how many other people were hanging around.). After spending quite a few breathless moments in the Great Pyramid, I wasn't sure about heading into this on. "Chew gum, so your mouth doesn't get dry, and go down backwards" was the advice from our driver and our guide. It didn't work. Ten feet in, I climbed back out. Mark went inside and took the pictures on the [ next page ]