Tombs of the Nobles, West Bank Aswan
On the west bank of the Nile, in the bluff overlooking the river is a necropollis for the nobesl of Aswan. The cliffside -- known as the Dome of the Winds -- is honeycombed with tombs from various periods. Just above the waterline are Roman tombs, higher up are tombs from the Old and Middle Kingdoms.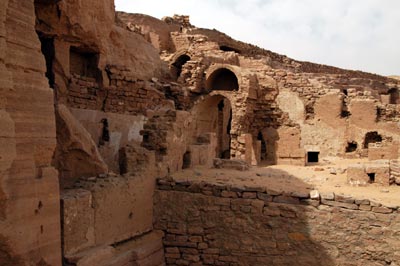 Most of the people buried here are priests or high officials.
There is a ceremonial staircase from the Nile to the tombs, but today access is from the north, along the cliff itself. The terrace is steep. Only a few of the tombs are open on the top terrace, which includes tomb sof Mekhu, Sabni, Sarenput, and others.
Some of the tombs were usurped by the coptic christians of Aswan, and the courtyards of the tombs hvae been redecorated with copic iconography in many places.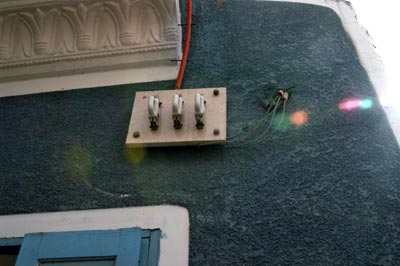 The tombs and reliefs are very crude, compared to the fabulous works of the west bank in Luxor, and the tombs have few visitors. IN fact, we were the only people wandering the terraces on the day we visited. We rode camels from the Monastery of St. Simeon, and then again down to the Nubian village at the bas eof the cliffs, where we had tea with a local family -- and got to participate in the blessing for the local religious festival (which included a dead cow) and walk through the colorful village, quite different in style from the main city of Aswan and of Luxor.