Cruise Ships on the Nile
Cruises up the Nile from Luxor to Aswan, (or back) are very popular. Most cruises are 4-6 days and stop at a few temples between the two cities -- including Kom Ombo, Esna, and Edfu.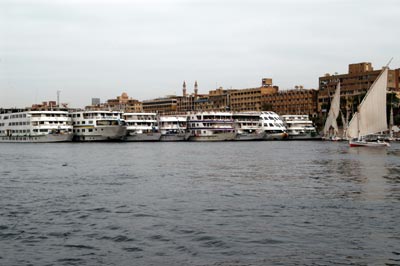 The often dock in Aswan and remain for a few days, allowing people to visit the city and see the sites. It's not uncommon to see five, six, or even seven ships tied to each other. People in the outermost ship have to walk right through the others to get to shore.
Some of the ships are very nice -- others are reminiscent of soviet barges. It's quite a sight!