Abu Simbel
Most tours don't include a visit to Abu Simbel, since it is at the most southern point in the country and it accessible only by air or by convoy from Aswan. It sits on the Sudan border, which is closed to most traffic. The site can only be reached by air or on a Nile Cruise. While there is a road from Aswan, it has been regularly been closed to tourists for security reasons. However, we ran into a few people who came by road-convoy, so it apparently is possible to get there on the desert road (280km) from Aswan. Your best bet is to fly in on EgyptAir, which has several flights a day. Most tourists fly in to the site in the morning, and spend a few hours, then fly back to Aswan in the afternoon. If you can manage to fly in late in the afternoon (for the truly spectacular Sound and Light Show) and stay overnight, it is worth having a few spare hours to visit the temple early in the morning. There are far fewer tourists in the late afternoon and early morning, as the planes of day-trippers are long gone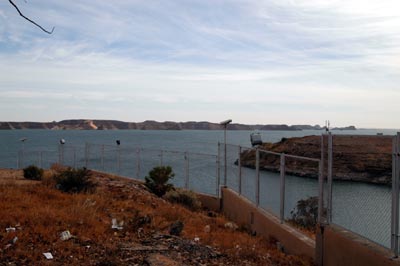 looking out from the new site of the temple of Ramesses II at abu simbel .
Rough Guide suggests sitting on the left side of the plane, if you fly in. Pilots often circle the temple and the view is spectacular. However -- I might disagree with that. There is something magical about walking around the long path to view the temple, and catching a glimpse of it as you walk, so we avoided trying to see the temple until we could walk in.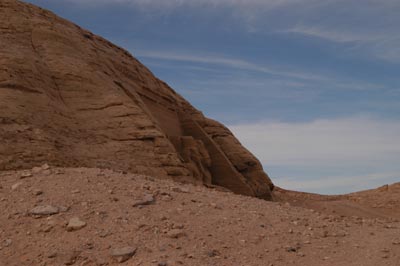 the first glance of the monumental facade of Abu Simbel
Even if it's not included in your "tour", you should definitely add it if you can -- this was without a doubt the most spectacular site we saw in Egypt. It is even more spectacular when you realize that the entire temple complex was picked up and moved to this site by UNESCO because the building of the Aswan High Dam would have left it under the waters of Lake Nasser.
The operation in 1964 - 1968 cut the monument into 1050 pieces and reassembled it on a manmade cliff side 61 meters (213 feet) above and 210 meters (688 ft) behind the original site. UNESCO built a coffer dam to temporarily protect the monument, then went about stabilizing the sandstone with synthetic resin. The entire temple was then hauled up to a new location and reassembled. If you go through the gray door on the north, you can see "behind the scenes", including a diorama of the restoration.
The entire processor of reconstruction took four years and cost $40 million. It is still being paid for -- the cost of tourist visas go towards the cost of the restoration for this and other Nubian temples affected by the lake.
The town of Abu Simbel is small and quiet (the name means "Father of the Ear of Corn"), and has only a few hotels open to tourists. There is really nothing else to do in town -- we never saw a restaurant or even many people -- but it's a pleasant walk from the hotels to the temple site.
It's hard to photograph the temple, since the facade is so enormous that it is easily distorted, and the sun can be bright enough to hide all details on the statues. Some of the recommendations (not mine, I'm not even a novice photographer) are to use a wide angle lens and "stop down" 1-1.5 stops in order to bring out the details. Also, while there is no charge for taking still photographs, there is a £E400 fee to bring a video camera. You'll need high speed film for inside -- no flash is allowed.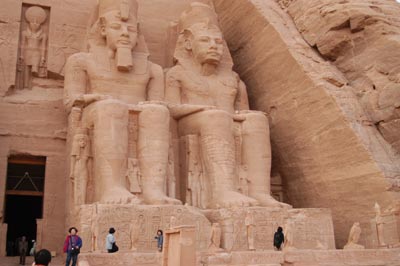 a few people at the temple, two of statues and the statue of re-herackhte
There are two temples here -- the Sun Temple of Ramesses II and the King's Wife's Temple.